Pink Hill, 12 February 1900, Chamberlain Account
Topic: BatzB - Pink Hill
Pink Hill, 12 February 1900
Chamberlain Account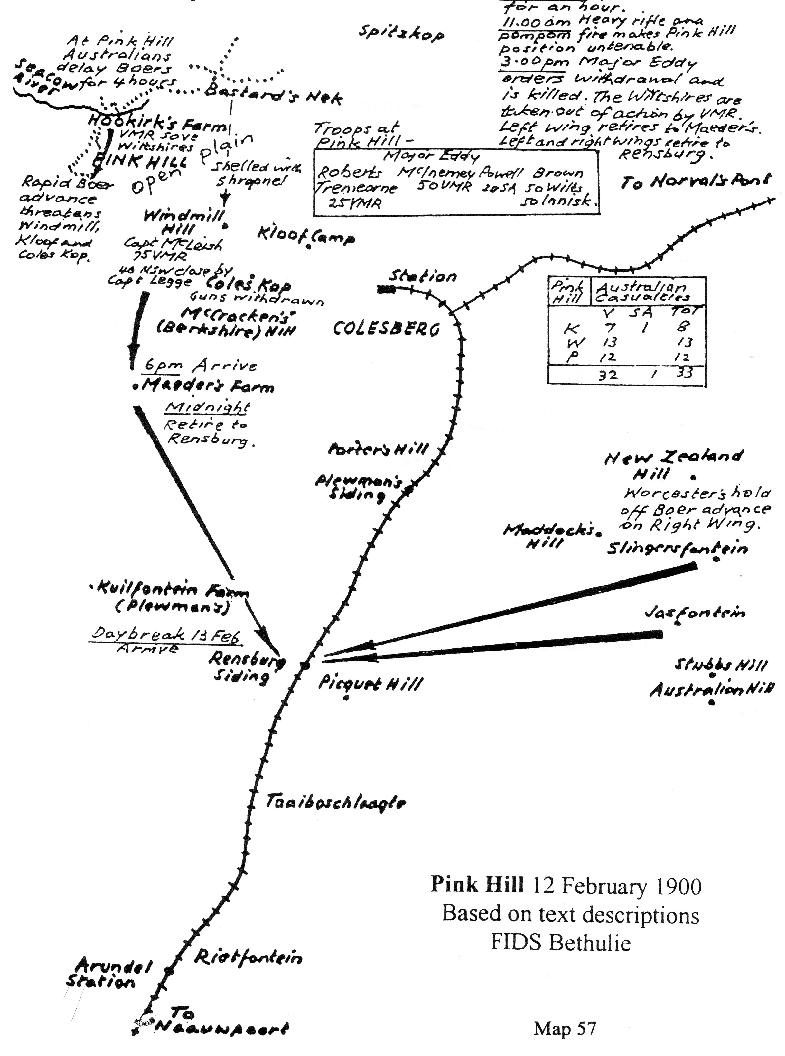 Map 57, Pink Hill, 12 February 1900.

The following account is extracted from Max Chamberlain's book called The Australians in the South African War 1899 - 1902, A Map History, published by Army history Unit in Canberra, 1999. This section is called Map 57.
PINK HILL 12 FEBRUARY 1900

There is great confusion in the references about Pink Hill - one of the first major military actions by Australians. Most British and Boer histories omit the place completely. The map in the Times History, Vol III, actually locates it correctly but the label gives the date of the action as 12 January 1900. The Official Boer History map correctly indicates that the action tool: place on l ? February 1900, but does not name Pink Hill. However, from these two maps it is possible to locate the site of the battle precisely and gain an impression of the terrain.

The Australian references which show Pink Hill on a map locate it variously to the south or east of Colesberg instead of north-west. Reay's written account is generally regarded as the most accurate, but Cunliffe points out that Reay errs in indicating the presence of the Bedfords. It is too late now to resolve all the contradictory points but this analysis attempts to unravel what actually happened by piecing together the events from as many authoritative sources as possible.

Bibliography
Chamberlain, M., The Australians in the South African War 1899 - 1902, A Map History, Army history Unit, Canberra, 1999.
Further Reading:
---
Posted by Project Leader at 12:01 AM EADT
Updated: Monday, 8 June 2009 12:05 AM EADT